Men's Pennant Finals 2021
09 May 2021
The winners of the 2021 Men's Pennant finals were found at a testing wet and windy New Plymouth Golf Club on Sunday. 
Manaia successfully defended their title as Senior champions with a dominant 5-1 victory over New Plymouth White. In a repeat of last year's final the South Taranaki team took early control of 3 of the 4 singles matches and the fourballs and never really looked back. Manaia no2 Ethan Jones was unstoppable easily accounting for New Plymouth's Andrew Searle 9/7. Manaia no4 Caleb Andreoli also had a comfortable win 6/4 over Travis Stewart. Caleb Syme's hung on to win 1up against Zach Lewis. New Plymouth's only bright spot was Fletcher Broderick claiming the significant scalp of Taranaki's leading golfer Sam Jones 3/2.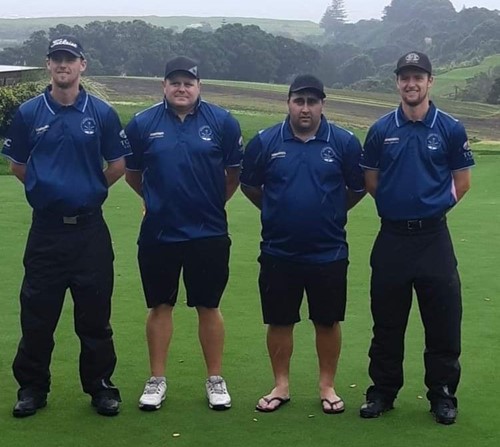 L-R Sam Jones, Caleb Andreoli, Caleb Symes & Ethan Jones
The Handicap pennant final was a much closer fought affair with Manukorihi 2 prevailing 5-4 against Inglewood 1 in a hard fought final. Both teams were in contention to win the Alf Bayliss Memorial Shield as the final pairs came up the 18th fairway. With Manukorihi number 2 Nathan Lopusiewicz halving the last hole against Trevor Terry to win his match 1up, it was left to Inglewood no1 Chris Reynolds to sink a 6 foot putt to beat Manukorihi's Ivor Sarten and send the final into a sudden death play-off. Unfortunately his attempt missed and the halved match was enough for Manukorihi to take their first title since 2012. Defeat for Inglewood meant the club's stranglehold on the Handicap Pennant was over, with the club's no2 side winning the title the previous 3 years.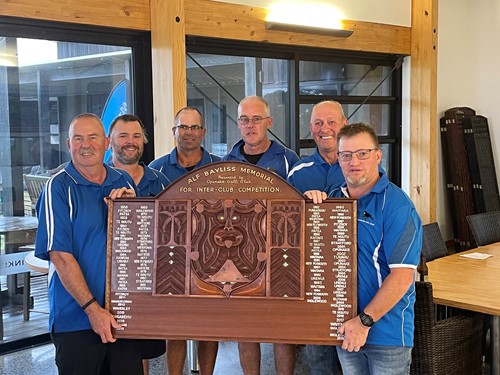 L-R Ivor Sarten, Nathan Lopusiewicz, Kevin Mancer, Robert Butler, Robin Broadmore & Jody Bound