Spring 2022 Newsletter
12 September 2022
Spring Newsletter
Futures Taranaki - Virtual Club
Following an application to Golf NZ, Taranaki Golf has created a Futures Taranaki Golf Club. The club will be open to all under 19 golfers who are current members of a Taranaki golf club. Members of Futures Taranaki will have the opportunity to play at other participating golf courses in Taranaki. Annual membership will be $60, and members will receive a Futures Hoodie as part of their membership. For further details please contact Lucinda Searle: futures@taranakigolf.co.nz. or visit the Futures Taranaki website. Click Here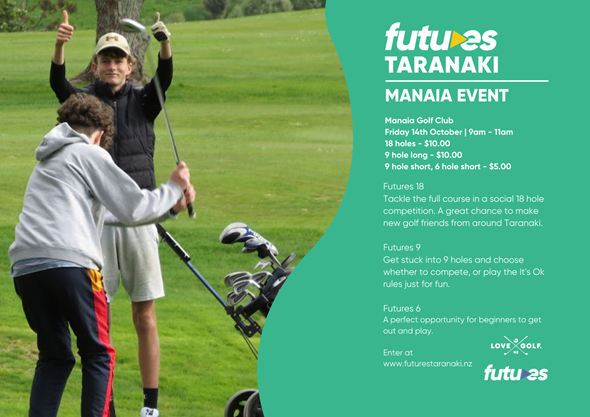 Golf NZ Planning Workshop 
Golf NZ's Stephen Gee is coming back to Taranaki in October to provide clubs with the opportunity to help them with planning. There will be 2 sessions both starting at 6pm for nibbles and networking, through until 8pm.
Monday 3rd October Inglewood GC
Tuesday 4th October Te Ngutu GC
Please contact Nick 0274126103 or nick.n@taranakigolf.co.nz to register.
The interactive workshops will cover:
The steps required to build a good simple plan
How to take club members of the planning journey easily
The next steps you need to take
Open to ALL club leaders, managers, board and committee members
It is recommended 3 to 6 board/committee members attend. However, the workshop can work for 1 or 2 where necessary. Those who attended the first forum, or who believe in the need for a plan will benefit most. Clubs are encouraged to take advantage of this workshop
Taranaki Golf - 2023 Executive Committee & TGA Board
A reminder to clubs that in 2023 the Men's & Women's Executive Committees will be replaced by a single executive committee. The committee will be made up of 2 Co-Chairs (1 of each gender) and 8 committee members (a minimum of 3 of each gender). The Board will be made up of the 2 Co-Chairs and 4 elected positions. The board may also have 2 appointed members added to the board. Nomination forms for both the Executive and Board will be sent out to clubs in October.
2023 Golfing Calendar
As we approach 2023 planning for the 2023 season is well underway. The Men's Club Captain's meetings are scheduled for Tuesday 25th October at Fitzroy GC and Thursday 27th October at Te Ngutu GC. Both meetings will commence at 6:30pm. The Ladies' program meeting is scheduled for 1pm Wednesday 2nd November at Stratford GC. Clubs are encouraged to ensure they have representatives at these meetings.